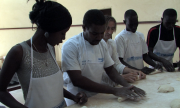 SENEGAL : Promotion of food sovereignty (2011-2014)(2015-2018)
Promoting food sovereignty by developing local resources
Phase 1: Test
Project region: Thiès Region, Luga, Kaffrine, Kaolack and Tambacounda
Phase 2:
Project region: Thiès Region, Kaffrine, Kaolack
Duration: 3 years, (2015-2018)
Aim: To reinforce Food sovereignty by developping activities leading to new income in rural area : production of bread and traditional cakes made from local cereals.
Issues : Substitute local cereals to wheat (30% to 50% substitution possible with our specific techniques), in order to open the production of local cereals from farmers. By training women to produce 100% grain pancakes (real alternative to bread, wheat-free, tasty and highly nutritious) they engage in income generating activities, in order to reinforce their capacities and providing opportunities job for their homes.
Beneficiary : 180 women and 36 bakers.
Course of action:
Formation of bakers in activity or unemployement by experts from SOLIDARITÉ : they learned the technicity to bread-making with local cereals. (30% à 50% of substitution local cereals whit wheat.)
Provision of oven in villages and training them to use it.
Training of women to the production of wafers with 100% of local cereals: millet, maize, sorghum and cassava by experts from SOLIDARITÉ in destination to the the family and women's group of restorers.
Campaign to promote products made from local cereals.
Study of opportunities for strengthening the local procurement of the flour mill in local cereal, providing opportunities for rural households producers.
Design of the proposed siting of improved materials on the basis of initial results (ovens, cereal mills / flour mill traditional, hygienic and environmentally materials affordable and local.)
The socio-economic situation:
Experts all over the world are agree to say that the earth can feed 6,6 billion of habitants on th world. However, 925 million of habitants always surfered of hungry, and tree quarters are peasant. this situation are today more important since 2012, because of rising of agricol product and more particular local cereals.
The causes of soaring s are a lot : imbalance between supply and demand, climate change, land grabbing and agrofuel crops, speculation in agricultural increase per barrel of oil. This structural problem threatens the ability of agriculture to feed more efficiently and fairly the population.
Consumption of bread, a legacy of colonization, is now firmly rooted in local customs and only increases the cycle of imports, higher wheat s and the impoverishment population linked to the increase and loss of nutritional quality of bread whose composition is modified to accommodate the rising cost of wheat.

©SOLIDARITÉ – Formation of bakers FSM 2011
Local partner: the FONGS (Federation of NGO in Senegal) and 3 local farmers organizations